Soundtrack (bande son) de Driver San Francisco
Comme pour Driver Parallel Lines et Driv3r, la musique de Driver San Francisco à été très soignée.
Nous vous proposons sur cette page la liste connue des chansons du jeu (utilisé dans le jeu, ou sur des trailers / bandes annonces).
Liste des chansons
22-20s - Devil In Me
Agnostic Mountain Gospel Choir - 10,000 Years
Alan Hawkshaw - Beat Me Till I'm Blue
All Thieves - Only Of You
Archie Bronson - Outfit Cherry Lips
Aretha Franklin - Rock Steady (alt mix)
Basement Freaks - Gypsy Breaks Tal M Klein Remix
Beastie Boys - Suco De Tangerina
Beck - Black Tambourine
Big Joe Louis - Go Go Train
Billy Boy on Poison - On My Way
Black Rebel Motorcycle - Club Weapon Of Choice
Clarence Wheeler & The Enforcers - Right On
ColdCut - Everything Is Under Control
Death in Vegas - Sons of Rother
Desert Sessions - Subcutaneous Phat
DJ Shadow - 100 Metre Dash
DJ Shadow - Dark Days
Dr John - Everybody Wanna Get Rich Rite Away
Dr Rubberfunk - Northern Comfort feat. John Turrell
Edenheight - Peaceboy
Editors - In This Light And On This Evening
Elbow - Grounds For Divorce
Fatal - Tuned up
Funkadelic - As Good As I Can Feel (1969 Version)
Hound - Dog Taylor Sitting At Home Alone
Jamiroquai - Whatever it is, I just can't stop
Kram - Ridin High
LCD Soundsystem - No Love Lost (Joy Division cover)
Leaving the fold - On You
Liars - Plaster Casts Of Everything
Liftoff - Kool It Man
Maps - Let go of the fear
Marlena Shaw - California Soul (Diplo Remix)
Narco - Worth It
Northern Light - Cocaine
OC Tolbert - Along came a woman
Overseer - Pump Action
Pedro - Fear & Resilience (Cherrystones)
Presets - Steamworks
Primal Scream - Kowalski
Primal Scream - If They Move, Kill 'Em
Queens of the Stone Age - Lost Art Of Keeping A Secret
Recoil - Backslider
Robert Palmer - Sneakin' Sally Thru The Alley
Seasick Steve - Big Green and Yeller
Southside Movement - I've Been Watching You
Span - Baby's Come Back (Radio Edit)
Stephen Yerkey - Link Wray's Girlfriend
Sugarman Three - Funky So-And-So
The Black Keys - Black Door
The Black Keys - Strange Times
The Black Keys - Lies
The Black Keys - Your Touch
The ChiLites - Are You My Woman Tell Me So
The Cure - Labyrinth
The Dirtbombs - Chains of Love
The Eels - Prizefighter
The Flaming Lips - The Sparrow Looks Up At The Machine
The Heavy - Big Bad Wolf
The Heavy - How You Like Me Now
The Heavy - The Sleeping Ignoramus instr
The Heavy Trash - Good Man
The Herbaliser - On Your Knees
The Hustlers - Inertia
The Noisettes - Dont Give Up
The Prodigy - World's On Fire
The Stooges - 1969 (Alternate Vocal)
These New Puritans - We Want War
TV on the Radio - Wolf Like Me
Two Fingers - Two Fingers (Instrumental)
Two Lone Swordsman - Born Bad _ Born Beautiful
UNKLE - Eye For An Eye
UNKLE - Unreal
Viva Voce Devotion - Viva Vode
zZz - Soul
Le Vinyle - Sounds of San Francisco !
Grâce à GrooveShark, vous pouvez écouter les musiques directement extraites du vinyle Sounds of San Francisco qui était offert pour toute pré-commande de Driver San Francisco (lien vers la playlist GrooveShark)
La cover recto-verso du vinyle :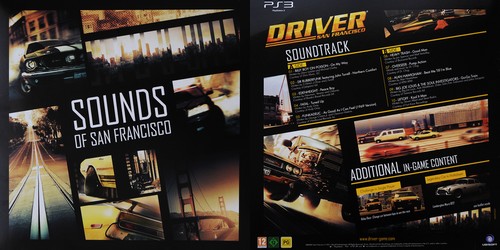 La playlist !
Grâce à Youtube, vous pouvez écouter ici même l'intégralité des chansons de Driver San Francisco ! (lien vers la playlist youtube)